Verweise:
Workshop "Interactive Devices"
[db] 08.05.2007
Arduinoprogrammierung, Breadboards und elektronische Bauteile im Rahmen der Workshop-Woche "digitale Perspektiven" des Studiengangs Medien-Design / Zeitbasierte Medien an der FH Mainz.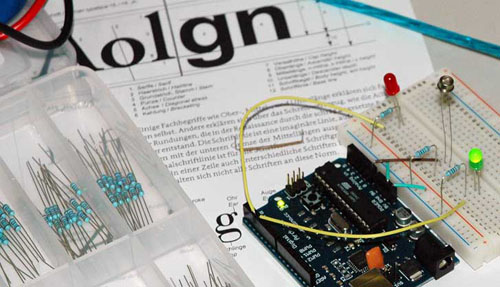 Allgemeines und Referenz
Inspiration und Anleitungen
Technology Sketches
Interessante Projekte





Dokumentation:
FBAS (PAL) Composite Signalerzeugung
[db] 04.12.2006
Wie sollte ein FBAS Signal aussehen?
Tips zur Signalerzeugung, Timingfragen, Interrupts
JAVA:
/* Delay for the given number of microseconds.

* From D.Mellis for Arduino

* Assumes a 16 MHz clock.

* Disables interrupts, disrupts millis() if used frequently

* note: digitalWrite() executes in 2.5 microseconds

// calling avrlib's delay_us() function with low values (e.g. 1 or

// 2 microseconds) gives delays longer than desired.





Entwurf:
Alarm
[jw] 05.10.2006
Aus reiner Funktionslust ist die Studie Alarm entstanden. Nachdem wir unsere Überseebestellung von sparkfun.com erhalten haben, wollten wir unsere neuen technischen Errungenschaften verbauen und ausprobieren. Der Aufbau besteht aus einem wiring-board, einem Breadboard mit aufgebautem Bluetooth Modem, einem Ultraschall-Entfernungsmesser und einem alten PC-Lautsprecher.