Verweise:
Workshop "Interactive Devices"
[db] 08.05.2007
Arduinoprogrammierung, Breadboards und elektronische Bauteile im Rahmen der Workshop-Woche "digitale Perspektiven" des Studiengangs Medien-Design / Zeitbasierte Medien an der FH Mainz.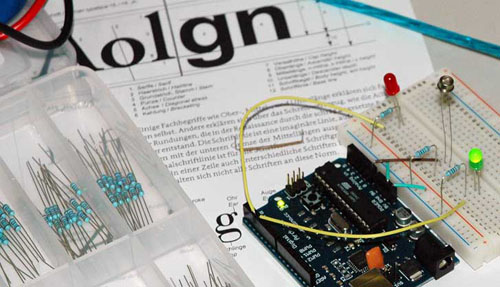 Allgemeines und Referenz
Inspiration und Anleitungen
Technology Sketches
Interessante Projekte





Dokumentation:
FBAS (PAL) Composite Signalerzeugung
[db] 04.12.2006
Wie sollte ein FBAS Signal aussehen?
Tips zur Signalerzeugung, Timingfragen, Interrupts
JAVA:
/* Delay for the given number of microseconds.

* From D.Mellis for Arduino

* Assumes a 16 MHz clock.

* Disables interrupts, disrupts millis() if used frequently

* note: digitalWrite() executes in 2.5 microseconds

// calling avrlib's delay_us() function with low values (e.g. 1 or

// 2 microseconds) gives delays longer than desired.